Campaign to restore Rosherville Gardens bear pit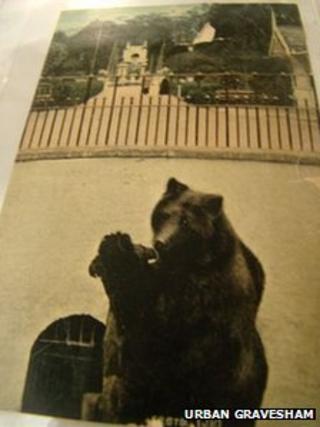 Campaigners trying to save the remains of a Victorian bear pit recently rediscovered in north Kent are hoping to stop developers from filling it in.
The tourist attraction in the former Rosherville Gardens in Northfleet was thought to have been lost forever.
It was found during an archaeological survey, along with a significant part of the elevated Italian Esplanade.
Campaign group Urban Gravesham has held talks with the Homes and Communities Agency (HCA), which owns the site.
The pleasure gardens fell into decline in the early 20th Century, but in their heyday - in the 1880s - they received a million visitors a year, with many arriving in Gravesend by paddle steamer from London.
Charles Dickens was a regular visitor, as the site was only two miles from his home at Gad's Hill, in Higham.
The bear pit was used to display the animal for the amusement of sightseers who sometimes threw it food.
'Magical garden'
The gardens were destroyed in 1939, despite the bear pit being one of only five in the country.
Urban Gravesham said significant parts of the gardens were buried in chalk, to create a base for the industrial buildings and development that covered the site, so preserving it.
As a temporary measure, to protect the recently exposed features from the winter elements, the HCA has now backfilled them with soil.
However, starting in January it intends to deposit millions of tonnes of spoil on the land from the London Crossrail project to raise the site ready for development.
Conservationists fear that once covered the remains will be lost once again.
Urban Gravesham spokesman Jonathan Clay said: "It seems to us completely unthinkable having discovered this magical garden is there to then bury it again forever."
The group has now held talks with Gravesham MP Adam Holloway and the HCA, asking for it to refrain from dumping material on the most sensitive parts of the excavation.
It argues that restoration of the gardens, or part of them, could be the key to the development of the site.
Mr Clay described the meeting as a positive step forward, and said he was now awaiting an official response.