Dover port privatisation rejected by government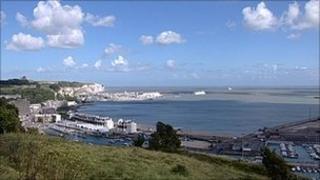 Plans to privatise the Port of Dover have been blocked by the government because they would not allow enough community participation.
Transport minister Simon Burns told MPs decided not to confirm the scheme proposed by Dover Harbour Board (DHB) in January 2010.
Tory MP for Dover, Charlie Elphicke, said it was the best Christmas present the people of Dover could have.
The Port of Dover said it was surprised and extremely disappointed.
The port has operated as a trust for 400 years. DHB said privatisation was needed to finance the proposed development of the Western Docks.
Additional finance
Privatisation could have resulted in the port, at the foot of the symbolic White Cliffs of Dover, going to a foreign buyer.
An alternative scheme set up by Dover People's Port Trust, to enable local people to buy a stake for £10, was backed by Forces sweetheart Dame Vera Lynn, who sang (There'll Be Blue Birds Over) The White Cliffs of Dover during World War II.
In a written statement to MPs, Mr Burns said he concluded that there were other options that would secure the additional finance necessary for the proposed redevelopment of the Western Docks.
He said his colleague Stephen Hammond would now discuss the future of the port with DHB.
Mr Elphicke said: "The Port of Dover is the gateway to our nation and should be forever England.
'Jewel in crown'
"The very idea that the port should be sold off was desperate and out of touch. Think of the port and the white cliffs and you think of freedom and victory over tyranny.
"This decision marks the first stage in the plan to make Dover a community-run People's Port and a jewel in the crown of the nation once more."
Bob Goldfield, chief executive of the Port of Dover, said the decision was frustrating.
"Developing the port, providing an important contribution to the regeneration of Dover, growing and adding value to the business, were key objectives for the DHB scheme and will continue to be our focus as we remain as a trust port," he said.
"It is, however, a great pity and a disappointment to the members of the Dover Harbour Board that the people of Dover will not now benefit from the injection of many millions of pounds into local community projects, via our proposed Port of Dover Community Trust that would have been possible had the decision been in our favour."