Maidstone Hospital lifts visiting ban after norovirus outbreak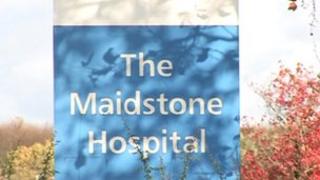 A hospital in Kent has lifted visiting restrictions following an outbreak of the winter vomiting bug norovirus.
Maidstone Hospital was forced to temporarily close three wards to new admissions and family and friends were told to stay away.
However, the hospital said normal visiting hours would be returned from Thursday afternoon.
Visitors who are feeling unwell have been urged to stay away from the hospital.
Dr Sara Mumford, director of infection prevention and control, thanked the public for their co-operation while the wards were closed.
"Normal visiting hours are back in place from this afternoon, however, we would urge anyone feeling unwell still not to come into the hospital to visit patients, and not to bring children," she said.