Charles Dickens' hair at Cobham's Leather Bottle pub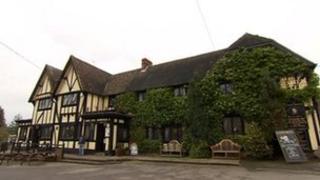 A single hair from the head of Charles Dickens has taken pride of place in the Kent pub where he used to drink.
It was raffled at The Leather Bottle in Cobham, to raise money for the restoration of the chalet in Rochester where he wrote many of his works.
Tickets were bought by enthusiasts from around the world but the winner was a regular at the local that served the Victorian author during the 1860s.
Ian Rons donated his prize to the pub "to bring a bit of Dickens back".
The strand of hair has been placed in a picture frame.
Dickens used to drink at The Leather Bottle when he lived at Gad's Hill, in Higham.
He often stayed in room six, and even featured the pub in The Pickwick Papers as it was where the lovelorn Mr Tracy Tupman fled after being jilted by his sweetheart Rachel Wardle.
The pub is filled with original Dickens' books and other framed memorabilia, including his old briefcase.
The author wrote much of his work in a miniature Swiss chalet in the garden of Gad's Hill, which was a gift to him from a friend.
It is now situated in the grounds of Eastgate House in Rochester High Street, after being moved there in the 1960s.
A £100,000 appeal to save the wooden chalet, which has fallen into disrepair, was launched more than two years ago by the Rochester and Chatham Dickens Fellowship and Medway Council.