Folkestone Racecourse holds 'last' horse racing meeting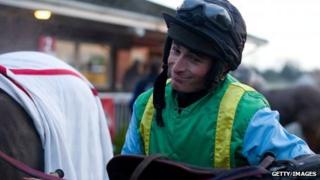 The last meeting has been held at Folkestone Racecourse, which is facing temporary closure after more than 100 years of horse racing.
Arena Racing Company (ARC) said it was closing the site because its "outdated" facilities needed redeveloping.
"It is a very sad day. We are at a funeral effectively," said bookmaker Robin Grossmith.
Shepway District Council said it remained committed to discussing alternative options for the site.
ARC spokesman Tony Kelly said the racecourse at Westenhanger, which opened in 1898, was not making any money.
"It is not a viable business at this stage and we need to have a viable business in order that we can reinvest in the facilities and make it fit for purpose for the future," he said.
'Enhance facilities'
ARC said Shepway's withdrawal of support for the racecourse proposals had left it with no certainty regarding future development plans.
But it said: "The board has received general support from Kent County Council, and has held discussions with Shepway District Council who would also like to see the racecourse reopen and enhance its facilities."
Racegoer John Toomey said the facilities were adequate for a provincial racecourse.
"One doesn't expect champagne and caviar when you come to Folkestone races," he said.
"We are all very happy with the present facilities for the simple reason it caters for the racing industry."
A spokeswoman for the council said: "We are obviously very disappointed that today sees the last race fixture at Folkestone Racecourse.
"We recognise the contribution that the racecourse has made to the district."
But she said it had become clear plans to build 800 houses to fund the racecourse redevelopment were unlikely to be acceptable.
She said: "We remain committed to discussing alternative options with Arena Racing and consider that despite the difficulties, the racecourse can still have an important part to play in the future of the district."
Race fixtures staged at Folkestone have been transferred to other courses.
On Monday Hereford Racecourse, also run by Arena, closed permanently. Racing had been taking place in Hereford since 1771.