Sherwood Park school governors resign after £6,000 party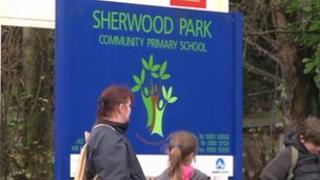 A primary school's board of governors has resigned after £6,000 from its official budget was spent on a leaving party for the former head teacher.
The party, at the end of the summer term, was a send-off for Keith Marden, head teacher at Sherwood Park Community Primary in Tunbridge Wells.
Kent County Council said the resignations followed an audit which identified "financial irregularity".
It said all the governors in post at the time of the party had resigned.
Mr Marden had been at the school for 25 years.
At the time of the party, Sherwood Park had been put into special measures following an Ofsted inspection in June which found its leadership, management, teaching and pupil achievement were inadequate.
The school, in Friar's Way, is to become an academy on 1 January, sponsored by the Temple Grove Trust.
'Lack of judgement'
Conservative councillor James Tansley said he was appalled £6,000 had been spent on the party.
"Kent County Council delegates money to governing bodies and we expect them to spend that money for the purpose for which it is intended, which is on education," he said.
"It wasn't in this case.
"Sherwood Park is a school which has many needs and I would have liked to have seen all the money we delegate to the school spent correctly."
The county council said a new governing body was appointed after the resignations.
"The matter is therefore resolved and the school continues to have effective governance," it said in a statement.
Education director Patrick Leeson said: "The county council has a responsibility to make sure that local authority schools, such as Sherwood Park, are well-governed and financially managed.
"This includes responsibility for the public funds which are delegated to them to ensure children receive the best education and all available funds are used to improve standards."