Jamie Hall admits attacking ex-Gurkha in Maidstone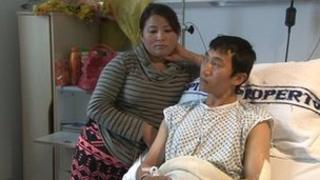 A 39-year-old man who stabbed a former Gurkha, leaving a 5in (13cm) blade embedded in his arm, has admitted four charges in connection with the attack.
Jamie Hall pleaded guilty to attempted robbery and GBH with intent in the attack on Taitex Phlamachha, 38, in Maidstone, Kent on 7 October.
He also admitted possessing an offensive weapon and common assault.
He was remanded in custody by Maidstone Crown Court to await sentencing on 1 February.
Mr Phlamachha, who runs a grocery shop, was with his wife when he was attacked after withdrawing money from a cash machine.
The former Gurkha, who has a black belt in karate and taekwondo, managed to overcome his attacker and hold him until police arrived.
He said he only realised he had been stabbed when police used a metal detector on him.
Mr Phlamachha, who served with Maidstone's 36 Engineers for 12 years, said his self-defence training undoubtedly saved his life.