Ex-police officer Ivan Esack 'had affair before murdering wife'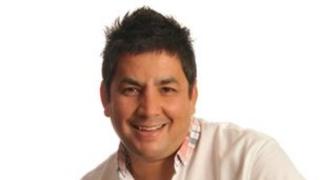 A ex-Kent Police officer told his wife he was having an affair in the months before he stabbed her to death, a court has heard.
Ivan Esack, 38, from Ashford, denies murdering Natalie Esack at her hair salon in the town, in April.
Mr Esack told her she should be tested for sexually transmitted infections because of his affair with another man.
A jury at Maidstone Crown Court also heard Mrs Esack was left "mortified" by the disclosure.
Mrs Esack, 33, was stabbed up to 11 times in the neck and chest at her hair and beauty salon in Ashford High Street, the court has been told.
She was stabbed with such ferocity that the blade bent and the tip broke off, the prosecution said.
'Left mortified'
The jury heard Mrs Esack had received a message from her husband saying she "couldn't compare" to his lover, who was named only as Louis in court.
Friends and colleague Rachael Beaumont, described in court how Mrs Esack had been left "mortified" by the news her husband was having an affair with a man.
Renee Stolten, who rented a room at the hair salon, also told the court that Mrs Esack confided in her about the feelings she had about the relationship.
"Natalie told me that she was concerned for her health," Ms Stolten said.
"She told me that Ivan had been sleeping with another man and that he said she should have sexual tests done, implying that he had something wrong, such as Aids.
"The messages were awful. Natalie was clearly distraught - crying and just in a terrible state."
Ms Stolten told the court she went to a police station with Mrs Esack on 25 October 2011, after Mr Esack sent her a series of threatening and abusing phone calls.
"Even while we were at the station, [Mr Esack] was ringing her," she said.
"The officer answered one call to him and said he was PC so and so, and Ivan just put the phone down."
The case continues.