Ex-policeman Ivan Esack 'was a vile disgusting monster'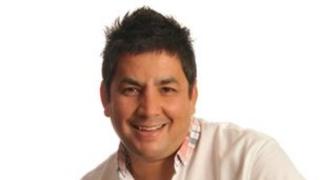 The boyfriend of an Ashford woman who was stabbed to death has told a court how he begged her to go to the police.
Ex Kent Police officer, Ivan Esack, 38, from Ashford, is accused of murdering his estranged wife Natalie Esack at her hair salon in the town on 30 April.
Mrs Esack's boyfriend, Justin Khadaroo, told Maidstone Crown Court he had urged her to get an injunction against him.
He said she was a "nervous wreck" and that Mr Esack, who denies the charges, was a "disgusting monster".
The jury earlier heard how Mrs Esack was stabbed up to 11 times in the neck and chest at her hair and beauty salon in Ashford High Street.
The court was told she was stabbed with such ferocity that the blade bent and the tip broke off.
Mr Khadaroo claimed Mrs Esack had received threatening text messages and phone calls from the ex policeman, and was attacked on more than one occasion.
"She was a nervous wreck and absolutely petrified," he told the court.
"He was a vile disgusting monster," he said.
'An atrocious creature'
"He [Mr Esack] had told her on numerous occasions what he would do her family..."
Mr Khadaroo told the court that Mr Esack had recently qualified as a football agent.
He said Mrs Esack was worried he would lose his licence if she brought any charges.
"She just wanted him to be OK," he said.
"I urged her so many times to get a restraining order or an injunction, but she wanted to do it her way," he told the court.
"He was an atrocious creature who was capable of killing her. Every time I urged her to take action."
The case continues.