Ex-policeman Ivan Esack denies murdering wife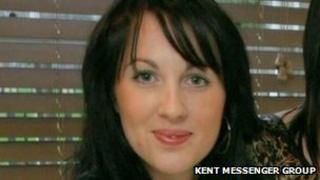 A former Kent police officer stabbed his estranged wife to death because he could not cope with the idea of her being with someone else, a court heard.
Ivan Esack, 38, from Ashford, denies murdering 33-year-old Natalie Esack at her hair salon in the town on 30 April.
Jurors at Maidstone Crown Court were told Mr Esack bought a knife in a supermarket before lashing out at her.
It is alleged he stabbed her up to 11 times in the neck and chest at her hair and beauty salon in the High Street.
The court heard Mrs Esack was knifed with such ferocity the blade bent and the tip broke off.
'Walking dead woman'
The defendant could not deal with the idea his estranged wife had started a new relationship so he murdered her, the jury was told.
It was also claimed he was abusive in phone calls and text messages to her, and during one exchange he told her she was a "walking dead woman", before saying "tick tock, tick tock".
The court also heard he had inflicted bruises on his wife.
CCTV footage was played to the court showing Mr Esack parking his car in a car park before walking the short distance to the salon, which he set up with his wife in January 2008.
Mrs Esack was working on a computer at reception when Mr Esack arrived, "mumbled something" before lashing out with the knife.
Prosecutor Philip Bennetts QC, said Mr Esack stabbed his estranged wife between nine and 11 times sending blood flying up the walls.
Prosecution witness Chelsea Ford, a colleague of Mrs Esack, told the court: "He walked back towards me ... and he told me 'she deserved it, the bitch'.
"He was always threatening to kill her. She always told me that if you don't laugh you cry, so she laughed about it."
Mr Esack then left that salon, paid for his car park and drove home where he was later arrested.
'I just snapped'
While being transported to police custody, Mr Esack said: "She drove me to it. I'm not a violent person but she drove me to it."
In a later interview, he told police: "The first words she said to me were 'get out' and I just snapped.
"I recall just going mad, just absolutely crazy. I can't believe what I have done."
He said Mrs Esack had "made up" the claims of his violence and threats.
In March, while at the salon, Miss Ford caught Mr Esack with a hand in a knife drawer as she responded to screams from Mrs Esack.
Asked why Mrs Esack did not report the incident to the police, Miss Ford said: "I think she was scared. She was strong and I don't think she wanted to admit what he was doing mentally and physically to her."
The case continues.