Lydd Airport ruling 'needed urgently'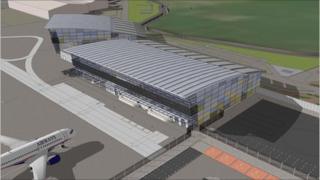 An urgent decision is needed over the expansion of a Kent airport following a public inquiry which finished in September 2011, campaigners say.
Lydd Airport bosses want a new terminal building and an extended runway to take up to half a million passengers a year.
Supporters who want a decision now said jobs were urgently needed but opponents have raised safety fears about the nearby Dungeness nuclear plant.
Shepway council said there was unlikely to be a decision this year.
Brian Godfrey, a member of Friends of Lydd Airport, which supports Lydd expansion, said the extra land required for the scheme was one acre, and the jobs were urgently needed in what was "a highly deprived area".
'Screaming for jobs'
He said: "We're screaming for jobs. The government is saying we need jobs to kick start the economy. We have £30m already spent and another £30m is on the table if the green light is given."
Louise Barton, from the Lydd Airport Action Group (LAAG), which opposes the plans, said the most important reason that expansion should not go ahead was nuclear safety and the other main reason was the ecological impact.
She said: "The decision can only be made when all the facts are on the table.
"Any sensible person would want all the facts on the table, particularly when you're dealing with human safety and environmental safety."
Dungeness A has been decommissioned and Dungeness B has an estimated decommissioning date of 2018, but there have been calls for Dungeness B to remain operational for longer, and also to build a third nuclear station, Dungeness C.
A spokeswoman for Shepway District Council said: "There is still no indication of when the result of the public inquiry into the Lydd Airport expansion plans will be made. It is highly unlikely that the decision will be made this year."