Bluewater expansion criticised over traffic congestion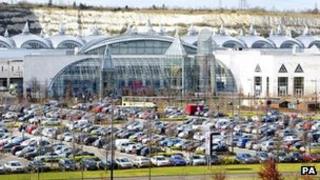 Villagers living near to one of the UK's largest shopping centres have voiced concerns over a planned expansion of the complex.
People living in Bean, which is near Bluewater, in Kent, claim traffic congestion is currently damaging the area.
They fear the plan to expand and build new homes will add to the problem.
Bluewater said the extension, adding 20% more shops and restaurants, would have a minimal impact on traffic.
The homes would be built in the Eastern Quarry adjacent to the centre.
A meeting was held in the village on Monday evening where representatives spoke to residents about the plans.
'Air pollution'
Duncan Wood, who lives in Bean, said: "The current problem is the air pollution, the noise and that villagers who live the other side of the A2 have issues getting anywhere because of the traffic jams.
"We were hoping for a lot more than we were ever going to get [from the meeting]."
A spokesman for Bluewater said: "We have been working very closely with Dartford Borough Council, Kent County Council, the Highways Agency and the community in preparing our plans.
"We have carried out a full transport assessment, which has been submitted as part of the outline planning application, and the conclusion of the studies is that the extension will have a minimal impact on traffic volumes."