GAA investigates Crossmaglen player's racial abuse claim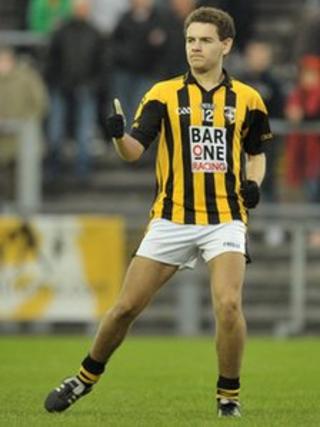 The Ulster GAA president has said anyone found guilty of racism will be dealt with "as severely" as possible.
The GAA is to investigate claims of racism on the pitch and from parts of the crowd at the Ulster Club football final between Crossmaglen and Kilcoo.
Crossmaglen player Aaron Cunningham, whose father is black, claimed he was racially abused throughout the match by two members of the Kilcoo panel.
Mr Cunningham said "the n-word" had been used.
"It riled me up - the n-word," he said. "Anybody who knows me knows I don't like it.
"I got it in the first half after about 20 minutes and there was a bit of provocation from the stand," added Mr Cunningham.
"This is my sixth year of playing senior football and I've never before had any form of abuse.
"To be subjected to that kind of abuse is disgusting.
"It's not something that you would expect to hear and you look up to these people, you want to be like them."
Mr Cunningham is the son of Joey Cunningham, who played Gaelic football for Crossmaglen and Armagh and Irish League football for Portadown in the 1980s and 90s.
Aaron Cunningham said the incidents could not be brushed under the carpet.
"As far as what can be done, I don't know, it's an individual thing - you can have signs on the walls or people telling you don't do that, but it's all down to the individual," he said.
"I would like to say that you could brush it under the carpet by the GAA officially saying we're not racist we're not sectarian there's no place - it doesn't work like that unfortunately, so it'll be interesting to see if anything does happen."
Ulster GAA president Aogán O Fearghail said racism or sectarian behaviour would not be tolerated.
"It is about education and we are constantly using different forms of media to encourage and to let people see that we don't allow it, we don't stand for it," he said.
"It doesn't occur, it's very, very rare, but as I said things that are sometimes small can grow and we don't intend to allow this to grow."
He said a meeting would be held on Tuesday night and an investigation team would be set up.
"We're going to very swiftly and very speedily examine all matters relating to the allegations," he said
"Anything that's divisive or abusive of this nature we would definitely deal with it as severely as we could."
It is understood the alleged incidents will form part of the match referee's report.
Kilcoo have also released a statement following the allegations made by Mr Cunningham.
"Kilcoo GAC is an all-inclusive club which prides itself in appealing to all sections of our community, and is shocked and saddened to hear of any allegations of racial abuse following the Ulster Club final.
"We as a club condemn abuse from whatever quarter and shall co-operate fully with any investigation instigated by Ulster Council."
Crossmaglen won the match on Sunday afternoon by 3-9 to 1-9 to secure their third consecutive Ulster title.