Rochester celebrates Charles Dickens link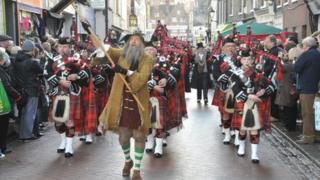 A Kent town is celebrating its links with author Charles Dickens with a two day festival.
Rochester's Dickensian Christmas festival includes parades and performances of Fagin's Last Hour, adapted from Oliver Twist.
Dickens, who was born in 1812, spent some of his childhood in Medway and returned for the last few years of his life, dying at Gads Hill in 1870.
Characters from Dickens' tales will be seen on the High Street.
Events run from 10:00 to 17.30 GMT across the weekend.
The Mayor, councillor Vaughan Hewett will lead a candlelit parade.
Sandi Digby, who is taking part in the event, said: "We are very lucky that so much of the High Street has been preserved since the Dickensian era.
"When people arrive they see the historic buildings, people in costume and snow falling, and they can almost believe that they have been transported back in time, especially when they actually meet Dickens' own characters."