Faversham bogus police 'arrest' CCTV images released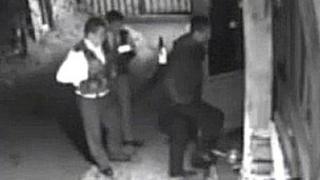 CCTV images of a gang who posed as police to get into a house and tried to "arrest" the owner have been released.
Kent Police said two of the men wore what appeared to be police uniforms and a third claimed to be a plain-clothed officer.
The men told the Faversham homeowner they were arresting him and another man in the house but left when they could not restrain the victim.
He phoned Kent Police who confirmed the men were not from the force.
'Second incident'
The bogus caller incident on 13 October followed an attempted burglary on 9 September at the same house, which is in a rural area, police said.
In September, a man with a large knife approached the property and shouted, demanding to be let in. He left after failing to gain entry, police said.
Detectives are viewing CCTV footage from both incidents.
Det Con Tim Wilson said: "Clearly these are concerning incidents and I am keen to hear from anyone who may be able to help identify the men from the CCTV footage."
He urged anyone with concerns about callers' identities to ask for ID even if they claimed to be from Kent Police.
He said: "No officer will mind you doing this."