East Kent Grow For It campaign promotes investment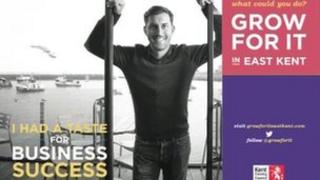 Adverts encouraging people to invest in east Kent are appearing on London buses and at underground stations.
The Grow For It campaign aims to promote the area as the best place to start or expand a business.
Interest-free loans totalling £35m are also being offered, with Kent County Council (KCC) hoping the campaign could help to create up to 5,000 new jobs.
KCC leader Paul Carter said road and rail links and lower living costs meant the area was "oven ready for growth".
The money for the loans has come from the Regional Growth Fund.
'Amazing areas'
Michael Hayman, from Seven Hills Communication Group - which is behind the campaign, said the fund had been "a particular advantage point" for east Kent with the area having been "one of the best-kept secrets".
He said it was all about making the area "less of a secret and much more of a big message".
Mark Sargeant, who last year opened the Rocksalt restaurant in Folkestone, is the face of some of the advertising posters.
"East Kent is just something waiting to happen," he said.
"There's already a lot of things going on - Margate have just had the Turner Contemporary art gallery built down there... the harbour in Folkestone is under planning, Thanet and Broadstairs are amazing areas... and we all know Whitstable - it's London by the sea."