Ofsted tables: Kent schools in bottom 10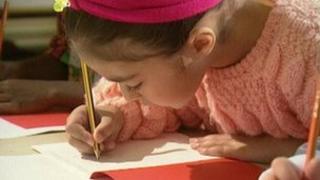 Kent's education authorities are being challenged to work with the schools watchdog after poor performances in Ofsted's primary schools league tables.
Medway and Kent County Councils are in England's bottom 10, with 54% and 55% respectively of pupils at good or outstanding primary schools.
Ofsted's South East director, Lorna Fitzjohn, urged them to "work with us" to ensure improvement happens quickly.
The councils have admitted more needs to be done to improve standards.
In Ofsted's annual report for 2011/12 it publishes the standings of all 152 education authorities in England, ranking them by the percentage of pupils attending schools rated good or outstanding.
They range from 92% in the London borough of Camden to 42% in Coventry, with a national average of 69%.
Both Kent and Medway fall in the bottom 10, although they fare considerably better for secondary schools, with 70% and 78% respectively.
Challenge
Ms Fitzjohn said: "It does worry us [that] although across the country 70% of schools are good or better, in Kent - the primary schools - only 55% are good and better."
And she sent a message to the two authorities: "I would first challenge them that things need to improve and encourage [them] to work with us to make sure that improvement happens as quickly as possible."
Medway's director of children and adult services, Barbara Peacock, said in a statement: "Improving educational standards in Medway is of the utmost importance and we are working intensively with schools where improvements are needed to ensure that they progress as quickly as they can.
"We fully accept that there is more to be done to raise attainment and ensure every school provides the best outcomes for its pupils."
Kent County Council described the situation in the rest of the county as unacceptable and said it was providing specialist support to schools that needed it.
Cabinet member for education Mike Whiting said: "It is not news to the council that this is the situation, and that is why we have been taking such a vigorous approach to making improvements across the county over the last year."