Herne Bay Christmas lights switch-on booed by disappointed crowd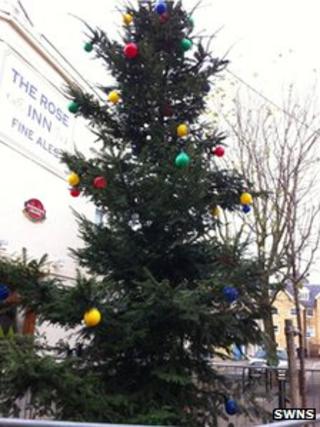 A Kent town's Christmas display was booed by crowds when the lights were switched on.
A few hundred people gathered in Herne Bay last Friday to watch the stars of the local Sleeping Beauty panto, Gareth Gates and Toyah Wilcox, turn them on.
One person said the decorations looked like normal light bulbs, while another said he had more in his shop window.
Canterbury City Council said it was the same display as last year, but it would consult with local businesses.
Greengrocer Karen Truelove described the switch-on in the town centre as "completely flat".
"There was nothing for people to look at... within half-an-hour the town was like a ghost town."
'Dismal display'
Her father, Stan Truelove, said most of the traders were disappointed by the poor display of lights and had expressed concern they would not bring shoppers into the town.
He claimed the council had not invested any money in the lights for several years.
Hairdresser Louise Richards said the annual display had been "dismal" for the past two or three years and it had not felt like Christmas.
"People are dragging children around, they want something pretty to look at. There's nothing here.
"We pay enough money - business rates. The council should be doing something," she said.
Ms Richards said by comparison the lights in Canterbury were "beautiful", and even by the bus station they were better than those in Herne Bay.
Local businesses and residents have now formed a group "to light up Herne Bay next year" and to highlight the "disgusting waste" of money on lights "that are not as good as some local houses".
In a statement, Canterbury City Council said it would be "keen to talk to those traders who are showing an interest in the display in their towns".
It said the council had provided £83,000 to pay for the decorations in Canterbury, Whitstable and Herne Bay, while the Herne Bay business association was responsible for raising any extra funds for the tree in Mortimer Street.
Earlier, singer and actress Toyah Wilcox tweeted: "Herne bay light switch on was an honour and a joy. The people were fantastic & they r what counts. I'd never b disappointed by lights :-)"