Storm-hit sheep ferry 'should not have sailed' says MP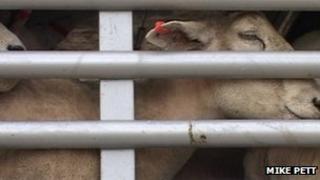 A ferry carrying about 700 sheep which had to return to Kent because of stormy weather in the Channel should not have been allowed to sail, an MP has said.
Sir Roger Gale told the Commons the sheep on the vessel had a further journey after their return to Ramsgate and suffered "absolute misery".
He called for an environment minister to make a statement.
Inspectors who check live exports said they saw the sheep after the ship returned and found no welfare issues.
The BBC could not contact the operator of the ferry, the Joline.
The Conservative MP for North Thanet said: "A ship sailed from the Port of Ramsgate yesterday in appalling weather carrying live animals.
"A ship that should never have been allowed to sail at all - went halfway across the Channel, turned back and had to unload those animals that were then transported a long way across the country in absolute misery.
"This is absolutely intolerable and it is done in the name of free trade."
After Sir Roger called for a minister to make a statement to the House, Commons leader Andrew Lansley said he would ask the department to update MPs.
Checks 'satisfied vets'
The Joline set off from Ramsgate on Wednesday with two lorry loads of sheep, but the captain aborted the crossing because of strong winds and rain.
After the vessel returned, inspections were carried out by the Animal Health and Veterinary Laboratories Agency (AHVLA).
The lorries then left the port to drive back to where they had come from.
The RSPCA said it made a formal request to check the sheep which was denied, and it also criticised the decision to sail.
But the National Farmers' Union said every animal was inspected before going on to a lorry and it was the captain's discretion whether to sail.
An AHVLA spokesman said: "Both prior to the ship's departure and upon its return AHVLA vets inspected the animals that were due to be exported and were satisfied there were no welfare issues."
Last month, Thanet council was ordered to resume live exports from Ramsgate by the High Court. The local authority had suspended live exports after an incident in which 47 sheep died.