Tunbridge Wells school to open on former hospital site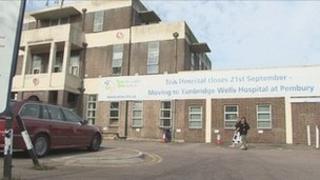 A free school that will open in Tunbridge Wells next year is to be based on the former Kent and Sussex Hospital site, its founders have said.
The Wells Free School will open in temporary accommodation on the site, while a permanent base is developed there subject to planning consent.
Organisers have also appointed the school's head teacher.
The Department for Education (DfE) approved plans for the Kent town's free school this summer.
Tunbridge Wells parents called for another school to be built in the town centre after more than 800 children across Kent were denied places at their three preferred primary schools this year.
Public meetings
The highest numbers of pupils who missed out were in urban areas such as Tunbridge Wells.
Jude O'Connor, chairwoman of the school's founding committee, said the school would be part of the Berkeley Homes redevelopment of the hospital site, subject to planning permission.
She added: "While the permanent site is in development and subject to the funding agreement with the DfE being signed, the school will open its doors in September 2013 in spacious temporary accommodation also located within the Kent and Sussex site."
The school is taking applications for places until 16 January and two public meetings are to be held on 1 and 4 December at the United Reformed Church, where the plans will be discussed.