Kent tourist numbers down by third during Olympics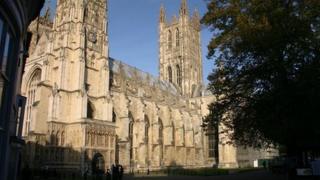 Visitor numbers at some of Kent's biggest tourist destinations dropped by up to a third during the London 2012 Olympics, latest figures show.
Canterbury Cathedral was one of the worst affected, with a drop of 28% in July and 29% in August.
Marketing director Therese Heslop said the cathedral lost about £500,000 in income compared with 2011.
"July and August are our big summer months, so 28% is a massive drop in income," she said.
"Tourists staying in London would normally be coming on a day trip to Leeds Castle and Canterbury Cathedral," she added.
Ms Heslop said the tourism industry expected numbers would be down significantly during the Olympics, based on the experience of previous host cities including Athens, Sydney and Beijing.
But the cathedral had budgeted only for a 20% drop.
Long-term benefit
She said small local attractions, such as Wingham or Howletts wildlife parks would have been less badly affected because they were more likely to attract local residents.
Visit Kent's figures show two-thirds of the county's attractions suffered a drop in visitor numbers of between 5% and 34%.
Shane Guy, spokesman for Leeds Castle, near Maidstone, said many attractions in the UK suffered a similar drop during the Olympics but it was hoped they would benefit in the long term.
"Britain got portrayed in a very, very good light around the world," he said.
"It is a fun place and we are ready to jump on the legacy bandwagon."