Kent boy, 7, achieves blackbelt in kickboxing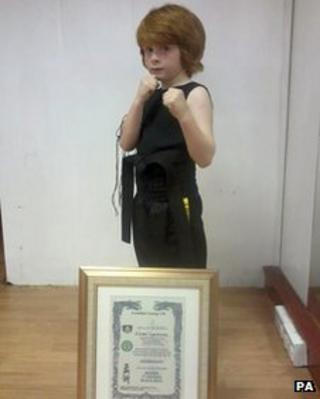 A seven-year-old boy from Kent has become one of the youngest people in Britain to have gained a blackbelt in kickboxing.
Ethan Owers, from Gravesend, achieved the junior first degree blackbelt after a four-hour grading session.
He started training when he was three, gaining inspiration from his parents, who are both coaches.
His mother Kelly, 27, said: "It was hard work, particularly as he's so young and so small, but he's thrilled."
During the grading session he completed a range of exercises, including 100 press ups, star jumps, sit ups and squat thrusts.
Mrs Owers added: "Ethan will go on to the next stage now and work towards his second dan in blackbelt and maybe take part in light contact competitions.
"We have just left the choice down to him. We don't force him to do anything.
"He has a real passion for kickboxing and trains four times a week."