Pfizer buildings to be demolished at Discovery Park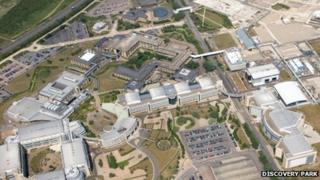 The owner of the former Pfizer plant in Kent has applied for permission to demolish a series of obsolete buildings on the site in Sandwich.
Discovery Park Limited said it wanted to knock down buildings from the 1980s which were no longer fit for purpose.
It said the unoccupied premises would require significant investment if they were to be maintained and secured.
The newer Millennium Buildings are not part of the planning application submitted to Dover District Council.
Discovery Park said the demolition would allow for clearance of the site and enable it to be made ready for investment by the consortium which bought the 220 acre site from Pfizer in August.
Earlier this month it said it hoped to create 3,000 jobs over the next five years by attracting new companies to the site.