Ramsgate woman loses remote control to help relieve pain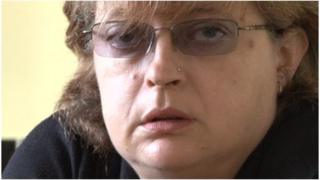 A woman from Kent who left her handbag at a bus stop has appealed for the return of a remote control which helps prevent excruciating pain.
Shelagh Deverson, from Ramsgate, has a condition known as chronic cluster headaches.
The attacks are eased by an electronic implant in her head, activated by the remote control, which stimulates nerves to interfere with the pain signals.
Mrs Deverson said the unit would cost £900 to replace.
She left the bag in Ramsgate town centre on Tuesday at 14:40 GMT.
The condition has meant Mrs Deverson has been unable to work since she was diagnosed 12 years ago.
"I just woke up screaming with pain - it was indescribable," she said.
"I thought it was my teeth to start with, as the pain is in my face and the side of my head, instead of a [normal] headache. But it's a different ball game."
Mrs Deverson had the implant which is attached to the occipital nerve in her head, fitted at King's College Hospital in December.