Thamesteel future unsure amid concern over decontamination cost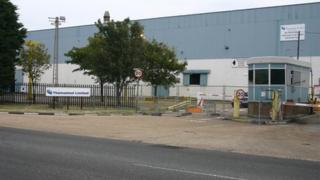 Hopes that a steel plant on the Isle of Sheppey could reopen after it was sold out of administration are looking less likely, an MP says.
Thamesteel was bought back by the Al-Tuwairqi Group (ATG) six months after it closed with the loss of 350 jobs.
Gordon Henderson, MP for Sittingbourne and Sheppey, said no maintenance work had taken place, and it had since begun auctioning off the non-fixed assets.
He said the land needed to be made safe but decontaminating it could cost £30m.
'Accept responsibility'
"My concern now, looking forward, is to ensure that any decontamination that needs to take place is actually funded under the 'polluter pays' policy.
"The ATG group... have been owners of that site for 10 years.
"My understanding is that it could cost between £20m and £30m... we want to ensure that the cost of that doesn't fall on the taxpayer but that is actually met by the company that effectively was responsible for all those years."
The Conservative MP said he believed the long-term intention of ATG was to move the fixed assets of the site to a new plant in Pakistan and that it did not intend to reopen the Sheerness plant.
However, he said at the moment they were being prevented from doing so because of an ongoing legal dispute with Peel Holdings, who own the land.
Mr Henderson said he was meeting the Environment Agency to see what it could do to ensure that ATG accept responsibility for the site and fund the decontamination.
"I want to try and encourage the Environment Agency and the government to actually take action in advance to ensure we can do it.
"I'd like to think there was a way the government could take an injunction out to ensure no more assets are removed from that site until such times as some sort of surety is put up by ATG to ensure there is money available for that clean-up."
Tom Butler, president of Thamesteel Community Union, said he felt there was still hope the site could reopen as a steel plant, and he agreed the present owners should pay for the decontamination.
BBC South East approached ATG for a comment, but it was unavailable.