Kent PCC spat over campaign letters prior to polling day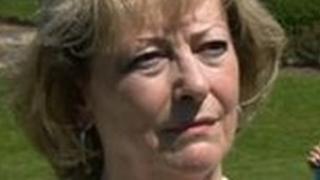 A Kent police and crime commissioner (PCC) candidate has accused one of her rivals of a "smear" campaign.
Ann Barnes, who is an independent, said her Conservative rival, Craig Mackinlay, falsely claimed she had been "reprimanded" during her time as Kent Police Authority chairwoman.
This was in connection with an investigation into comments she made on a blog post about the PCC role.
Mr Mackinlay said his claims, made in letters to the public, did not mislead.
While chairwoman of the Kent Police Authority Mrs Barnes used a blog to criticise plans to replace police authorities with directly elected police commissioners.
'Disgraceful'
She was reported by a member of the public and an investigation by the independent standards committee was carried out.
Ms Barnes said the committee made no findings of any improper conduct.
"The chief executive was asked by the independent standards committee to remind me of a member's protocol when dealing with the media which he did," she said.
"What I find so disappointing is this letter of Mr Mackinlay's has been sent to thousands and thousands of people - I think it's disgraceful that this sort of smear campaign should continue."
Mr Mackinlay said Mrs Barnes was reported for misuse of public resources and he did not mislead the public.
"At the time she had a Kent Police Authority blog, which was quite unusual... and she used that to actually condemn the whole concept of PCCs saying they are a dreadful waste of money and that the current arrangements are better," he said.
"We're into the nuts and bolts of what the word reprimand means, it can be a minor thing or a major thing."
'Semantics'
Other PCC candidates standing in Kent held mixed views over whether Ms Barnes was reprimanded or not.
Labour's Harriet Yeo said: "When a telling off becomes a reprimand is semantics, not something that deserves this amount of angst."
Independent Dai Liyange said: "As far as I am concerned from what I know Ann Barnes has been reprimanded."
And Steve Uncles, who is a candidate standing for the English Democrats, said: "There are two sites on the internet which for some time said she was reprimanded - why hasn't she challenged those publications to date?"
UKIP candidate Piers Wauchope declined to comment.
Voters in Kent will head to the polls on Thursday to decide who will be the county's police and crime commissioner.