Residents in Kent town plagued by 67-day sewer leak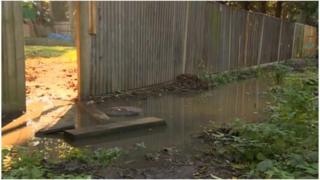 Residents living in a cul de sac in Kent said they have been plagued by raw sewage for 67 days after a sewer collapsed.
The pipe broke under the A2 in Wilmington, near Dartford but Thames Water said it was unable to repair it without closing the road.
The sewer will be inspected on Monday, but no date has been decided for a repair.
Resident Peter Scott said: "The smell is getting worse and worse."
Thames Water has been pumping the waste away, but the constant noise from the pump has also troubled residents.
'Can only apologise'
Mr Scott said: "Normally you find tampons flowing around and all sorts of stuff really, whatever comes through from the other side of the A2."
Dave Theobald, from Thames Water, said the company would only be given a small window of opportunity to locate the problem.
"Once we've located the problem we can then go back to them [Kent County Council] and say, we need to do this job as quickly as possible," he said.
"It has taken a long time and I can only apologise for the amount of time it's taken."