HMP Canterbury's foreign inmates 'need support'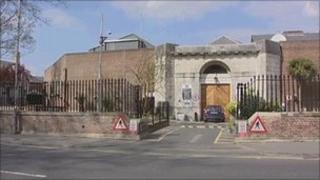 A Kent jail holding only foreign inmates should do more to tackle offending behaviour, Chief Inspector of Prisons Nick Hardwick has said.
HMP Canterbury had no offending behaviour programmes, a report said.
It said this was because of a belief there was little benefit when offenders were being sent to their home country.
Mr Hardwick said programmes should be provided for all inmates. The National Offender Manager Service (Noms) said it would consider the report's findings.
Mr Hardwick said the jail was generally safe, decent and well-run but prisoners must also be prepared when they leave.
Deportation 'priority'
He said: "The National Offender Management Service must ensure that offending behaviour and resettlement needs are addressed for everyone, as happens in other prisons, regardless of final destination or nationality."
Michael Spurr, Noms chief executive, said: "Our priority is to facilitate the return of those prisoners whom UK Border Agency take deportation action against.
"We will consider the report's findings and consider how best to support the resettlement of prisoners against whom no action is taken and who remain in the country on release."
He said training had been identified and provided for supervisors and a new risk-assessment model had been introduced.
Inspectors found the Category C training prison was generally well-run but described offender management as "poor", with some high-risk offenders wrongly identified as low-risk.
Their report also said UK Border Agency processes made it "impossible" to tell whether inmates would be deported, transferred, or freed, until just before their sentences.
It said 20% of prisoners were released into the UK and an additional unknown number were released after transfer to immigration removal centres.
Inspectors said prisoners generally felt safe, security was effective, there was little evidence of illegal drug use, and residential areas were well-maintained, although cramped.
Staff and prisoner relationships were said to be good, and most inmates were usefully occupied, with some education deemed to be "outstanding", the report added.