Margate seafront Tesco to be decided by Eric Pickles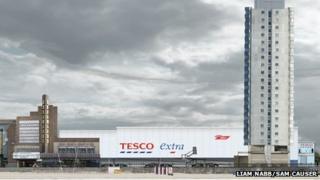 A decision on whether a Tesco superstore can be built on Margate seafront in Kent is to be made by local government secretary Eric Pickles.
It follows a four-day public inquiry last week into plans for the supermarket at the foot of Arlington House, an 18-storey tower block.
Landlord Freshwater says building the store would pay for the renovation of Arlington House flats.
Residents said they were pleased the secretary of state would decide.
The planning inspector at last week's inquiry will now prepare a report and recommendation which will be forwarded to Mr Pickles for a decision.
A letter to Thanet District Council said this was because of the size of the site and its location.
Margate regeneration
People living in the tower block, who describe the flats as an "eyesore", do not want such a large supermarket, which they say will be detrimental to Margate.
They argue a smaller Tesco store would raise enough money for improvements to the flats.
Retail expert Mary Portas backed the residents, submitting a letter to the planning inquiry saying the proposed Tesco would conflict with regeneration plans for Margate's Old Town.
But Freshwater said it saw the development as part of the overall regeneration of Margate.
John Moss, vice chairman of Arlington House Residents' Association, said it was surprising but good that Mr Pickles would make the final decision after everyone had sat through a planning inquiry.
"It gets looked at with a second set of eyes by the secretary of state himself.
"That has got to be a good thing as far as we are concerned," he said.