Eurotunnel awarded £202m by insurers after fire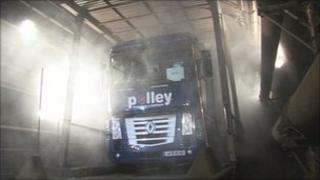 Eurotunnel has been awarded a final total of £202m (253m euros) by insurers after a fire in the Channel Tunnel.
A statement from Groupe Eurotunnel said the money covered operating losses, repairs to the tunnel and damage to rolling stock in the 2008 blaze.
The fire, which broke out on a freight train on 11 September, injured 14 people and closed the tunnel between the UK and France for almost two days.
The tunnel fully reopened five months later.
More than £15.9m (20m euros) had been invested in four safe fire extinguishing areas since the fire, the statement issued on Monday said.
The aim of the safe zones was to control a fire and facilitate fire brigade intervention, it added.
The fire protection system uses sprinklers to deliver a water mist which starves fires of oxygen and prevents them from spreading.
Groupe Eurotunnel operates the Channel Tunnel between Kent and France.