Foreign lorry blind spot lens law petition launched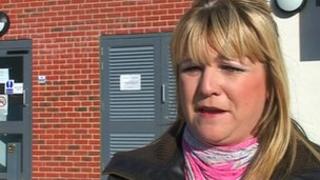 A Kent driver is calling for blind spot lenses to be made a legal requirement for foreign lorries after her car was involved in a crash near the M20.
Julie Hay, 44, was involved in a collision with a Polish-registered lorry at a roundabout near junction 10.
She believes it could have been avoided if the vehicle had been fitted with a lens that widens the passenger-side view.
The Port of Dover said it was committed to improving the safety of freight.
Ms Hay, of High Halden, near Ashford, told BBC South East: "Because they are left-hand-drive, they can't see out of their passenger window down the side if there's anybody sitting there.
"These lenses they make so they can actually see a bike, a person, a car, anything."
'Constant hazard'
Foreign lorries make about 1.5m trips to the UK each year. In 2011 there were 234 accidents involving lorries on Kent roads, with 37 involving foreign drivers.
Her petition states: "These lenses are already given out free of charge to left hand drive lorries entering the country, once fixed into place, which takes a few minutes, on the vehicles passenger window, the driver is able to see vehicles, bikes etc alongside their vehicle which would otherwise not be visible to them.
"Very rarely are these lenses put in place by the driver as it is not a legal requirement, therefore, resulting in these large vehicles being a constant hazard for UK road users."
A spokesman for the Port of Dover said: "The Port of Dover is committed to improving road safety wherever possible and does much to target international freight drivers moving goods throughout the UK.
"The Port of Dover Police, together with partner agencies, are positively engaged in a range of pro-active safety campaigns within the Port and onboard ferries.
"This includes the provision of multi-lingual advisory leaflets as well as offering free lenses, of which 12,000 such lenses have been issued during 2012 alone by the Port."
A spokeswoman for the Department for Transport said the authorities targeted "high-risk foreign trucks, taking lorries and coaches off the road if they do not meet high safety standards".