Margate article by restaurateur Lisa Richards leads to row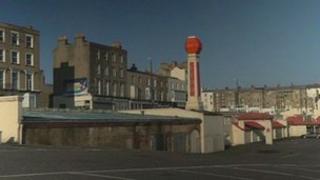 A row has broken out after a Margate businesswoman described the town in an online article as having "drug users, racist cab drivers and grubby kids".
Thanet councillor Ian Driver said the article was "rude and arrogant" and he would raise it with the council.
Lisa Richards, who runs Great British Pizza Company, has not commented to the BBC but has put an apology on Facebook.
Digital magazine Civilian, which published Ms Richards' article, said comments had been taken out of context.
It said the story celebrated the Kent town while acknowledging its issues.
'Love and scorn'
The article began by describing Margate as "the dumping ground for the unloved, unemployable and uncontrollable" and referred to "grubby kids marauding the streets", "racist cab drivers and the in-your-face drug use".
But Ms Richards also said Londoners, treated with "equal measures of love and scorn", were seeing past Margate's issues and sensing the "opportunity and change" that she and her partner spotted a couple of years ago.
Mr Driver said: "I don't agree with the rudeness [and] arrogance of that article which is really writing off local people."
He added: "I will boycott the restaurant and I'll be encouraging my friends to do [this] until there is a fulsome apology."
He also said he would raise the issue at a council meeting.
Mark C O'Flaherty, editor of Civilian, said Ms Richards had written a highly personal story about her experiences of moving to Margate and setting up her business.
He said: "The story is a celebration of the regeneration of the town, while acknowledging the serious ongoing issues that the town faces - including major unemployment problems and recurrently obvious anti-social behaviour."
And he added: "The majority of her story is about the hugely encouraging regeneration of the town by both newcomers and long-term residents, and how proud she is to be a part of it."
Mr O'Flaherty also added Ms Richards was passionately supportive of her community and said: "We find it particularly unacceptable that a member of Thanet council is calling for a boycott of the premises."