Ashford in Kent worst recyclers for third year running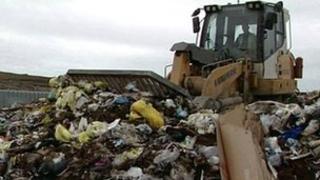 A council in Kent has been named as the worst place in England for recycling for the third consecutive year.
Despite year-on-year promises, Ashford Borough Council only managed to recycle, re-use or compost 14% of household waste last year.
The highest levels were nearer 70%, according to the Department for Environment, Food and Rural Affairs.
The council said a new rubbish collection contract next year would mean improvements, but not until 2014.
It said from April, residents would have "a new, improved waste collection and recycling service which will provide more recycling opportunities and make significant savings on the current collection arrangements".
'Duty to catch up'
It estimates that within the first year, the council's recycling performance would significantly improve to about 37%.
Deputy leader Councillor Gerry Clarkson said: "We know that Ashford has fallen behind the rest of the country, and we have a duty to catch up."
When the new service is introduced residents will have their food waste collected weekly while recycling and residual waste will be collected on alternate weeks.
They will also be able to recycle more items, including plastics, cardboard and Tetra Pak.