Kent PCC: Candidates in rape victim pledge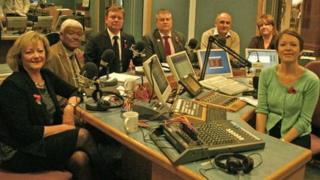 Candidates for the post of Kent police and crime commissioner (PCC) have agreed that more needs be done to help victims of rape in the county.
The six candidates discussed the issue following a call from a counselling service during a BBC Radio Kent debate.
Malcolm Gilbert, from Gravesend-based Family Matters, said support for victims of rape and sexual abuse varied across the county.
He said: "It's good at one end and frankly appalling at the other."
Mr Gilbert added: "One of their roles as commissioners is to hear the views of victims. What will they do to hear the views of those rape victims, will they meet with our rape users group, formed of rape victims?"
'A disgrace'
Independent candidate and former police authority chair Ann Barnes replied: "Rape victims in Kent really do need a really good service. They don't have a 24-7 service. There is a place in north Kent which is not open 24-7, there isn't a facility in the east of the county.
"I think the commission is going to be in a position to say 'Come on everybody, this is policing and crime and we all need to pull together for this'.
It was a "something of a disgrace" that victims in an area as large as Kent did not have round-the-clock support, said Piers Wauchope, who is standing as a UKIP candidate.
He said: "Some of the larger police forces do have, as the the Metropolitan Police force of course, do have these 24 hour centres. I think it's so important for us to have that in such an important type of crime in Kent."
Labour candidate Harriet Yeo said: "I would definitely put funds aside for a 24-7 SARC [Sexual Assault Referral Centre]. There is a facility, you can access it 24 hours a day, but it has to be through police referral and some women don't want to go to the police straight away.
"You might get them to be able to go to a self-assessment centre where they can refer themselves... so if the next day you actually are prepared to report it all the forensics are done so it gives you the time to actually come to terms with what's happened to you."
'Poor record'
Dai Liyanage, Independent, said: "Malcolm I've met you twice and you know that I'd support whatever you're doing because I think you're doing a great job. I want to work with the voluntary centre.
"I think it's very, very important to work with Neighbourhood Watch, street coppers, street pastors or Crimestoppers. It's very, very important to work with them."
Conservative candidate Craig Mackinlay said: "Sadly we have a poor record on reporting of rape and the investigation of rape. We were criticised for 'no crime-ing' by HM Inspectorate of Constabulary.
"The power of this PCC role will actually make a mandate with NHS to put things right in this case."
Earlier in the debate English Democrat Steve Uncles, who did not take part in the discussion about rape victims because of time constraints, said he wanted special constables embedded within the community to help cut crime.
He said: "Our policy is to embed specials within the community. So for example, to give high streets the opportunity of having an embedded special police in their community, in hospitals convert the security guards into specials and indeed in schools."