Mary Portas opposes Margate Tesco plan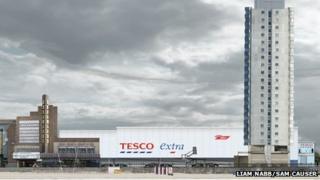 Retail expert Mary Portas has backed tower block residents opposing plans to build a Tesco superstore on Margate seafront.
Landlord Freshwater says building the store would pay for the renovation of Arlington House flats.
"We see this as part of the overall regeneration of Margate," said spokesman Philip Hughes.
A letter from Ms Portas was handed in at the start of a four-day public inquiry into the scheme on Tuesday.
She stated the proposed Tesco would conflict with regeneration plans for Margate's Old Town.
Margate is one of 27 "Portas pilot" areas to receive part of a £1.2m pot of government cash to rejuvenate their high streets.
Residents say a smaller store would raise enough money for improvements to the tower block.
'It's an eyesore'
"Even those of us who live there agree that it's an eyesore," said John Moss, chairman of Arlington House Residents' Association.
"Freshwater have allowed it to get into the state that it's in now and they are using that situation to twist the council's arm to allow this mammoth superstore to be built.
"Our primary objection is the size of the Tesco that they are proposing.
"It would involve us as residents losing our dedicated car park, it would increase the amount of traffic in this area and we feel that it is detrimental to Margate."
Freshwater lodged its planning application in January 2011. In June, Thanet District Council said it was "minded" to grant permission.
'Future success'
In October, Freshwater appealed because the council had still failed to make a final decision. A public inquiry due to take place in March this year was then postponed by the planning inquiry.
Mr Hughes said Freshwater had looked at a variety of ways to regenerate the area.
"It was the arrival of Tesco that unlocked the opportunity to do something substantial that worked both for us and for Margate," he said.
He said the company had carried out maintenance on Arlington House - which comprises 142 privately-owned flats - but the proposed development went beyond basic work.
"The tenants have been fairly resistant to doing excessive works on the tower and we have respected that," he said.
"The proposal will generate extra traffic but that is just part of the future success of Margate.
"We are putting substantial funds into improving the roads surrounding the property with a view to mitigating any effects that will have."