Government 'hit squad' to review K College debts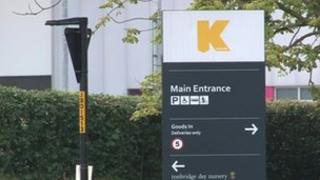 A government "hit-squad" is to review a college which has announced nearly 170 redundancies and a major deficit.
Three MPs held talks with a government minister on Thursday to look at options for K College, which saw its principal, Bill Fearson, resign last month.
Dover MP Charlie Elphicke said a review would start immediately.
K College said its current operating deficit was £6.4m and its deficit at the end of 2011-12 was £16m. It has not yet commented on the MPs' meeting.
The college has said its £16m deficit at the end of the financial year included one-off costs for developing a new campus and technology centre that would not be repeated.
'Bitterly disappointing'
Mr Elphicke said: "The Department [for Education] through the Skills Funding Agency has decided to intervene in K College - in other words, send in a hit squad to review the situation."
He added: "It is good news but also it's bad news because it underlines the seriousness of the financial and wider situation at K College that there needs to be this level of intervention."
Adding that K College had been formed from a merger in 2009, he said: "For us to be here, three years later, in this situation is bitterly disappointing."
Mr Elphicke said the Skills Funding Agency would look for the best possible outcome for the future of the institution and that "may well be a very different sort of college or colleges".
The review is expected to start immediately and take up to three months.