Pfizer site: New owner hopes for 3,000 new jobs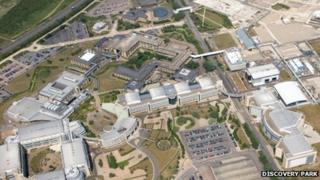 The owner of the former Pfizer plant in Kent said it hoped to generate 3,000 jobs over the next five years by attracting new companies to the site.
Discovery Park Limited bought the 220-acre site in Sandwich this year after the pharmaceutical giant pulled out with the loss of nearly 2,000 jobs.
"We are looking forward to bringing back the good times to the area," said managing director Paul Barber.
"We know the devastation caused when the [Pfizer] announcement was made."
Pfizer announced on 1 February 2011 it was closing its Kent operation but still has a reduced presence on the site, where 900 people currently work for 14 companies.
'Quality jobs'
Consortium Discovery Park Limited bought the freehold on 1 August. Its chief executive Chris Musgrave and chairman Trevor Cartner also own 700-acre Wynyard Park on Teesside, north-east England.
"We are trying our best to replace the jobs with jobs of the same quality as much as we can," said Mr Barber.
"The facilities are fantastic and we have people travelling the world trying to find new occupiers."
He said Pfizer had left behind a large amount of fixed equipment in the labs.
"We have had people down from the London universities and some of the major research institutions and their jaws have absolutely dropped to the floor when they have seen the quality of the facilities," he said.
The company said it would unveil a master plan for the site, a designated Enterprise Zone, in spring 2013.
Mark Norman, BBC South East's Business Correspondent, said the economic climate made it tough to get new tenants.
"They are clearly finding it difficult, despite the fabulous facilities," he said.
"What everyone wants on a site like this is one big tenant who comes in and fills a couple of buildings. They make it feel busy, that gets the place buzzing and other people come in off the back of that."
Chief executive of Investment Agency Locate in Kent, Paul Wookey, said he was optimistic about new jobs.
"We have been working with the new owners for a few months and I am pretty sure that they have realistic ambitions and aspirations," he said.
"We have high speed rail links coming in to Sandwich and Ramsgate and are an hour away from St Pancras.
"We have to use that great opportunity and our connectivity into Europe."