Kent firm criticised over worker's roof fall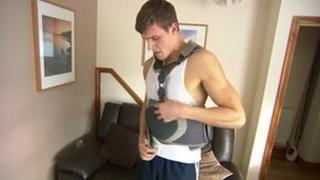 A worker's 23ft (7m) fall from a roof through a skylight was an accident that could have been prevented, the Health and Safety Executive (HSE) has said.
The HSE criticised the Kent firm that employed James Froud after it was fined for breaching health and safety law.
Mr Froud told the BBC that at first he thought he would not be able to walk again after his fall last October.
The firm, London and South Scaffolding, said it had implemented measures to make sure it did not happen again.
HSE inspector Caroline Penwill said Mr Froud, of Gillingham, had been working at Siemens Windpower Compound at Ramsgate port.
She said both London and South Scaffolding and its director Gary Peck were aware the roof and skylights were fragile but did not take any steps to avoid access to the roof or provide a safe method of work.
She said: "Had they done so, James's fall could have been prevented."
'Shooting pain'
Last Tuesday, the company was fined £10,000 and ordered to pay £1,000 in costs, and Peck was fined £15,000 and ordered to pay £2,000 in costs.
Both the firm and Peck admitted four breaches of regulations before Canterbury magistrates.
Mr Froud, 22, was in hospital for 10 days and had several months off work, during which time he wore a back brace and used crutches.
He said: "It was just so much pain shooting through my back down to my legs, I didn't think I would walk again."
The company said Mr Froud had been told not to go on the roof but did not listen.
A statement said: "London And South Scaffolding regret and admit that in this instance not enough was done to prevent James going on to the fragile roof area and that simply telling him not to go on the fragile roof area didn't meet with current health and safety regulations."
The firm said it supported the sub-contractor financially while he could not work and kept his position open for him.