Tunbridge Wells pupils stranded by US Hurricane Sandy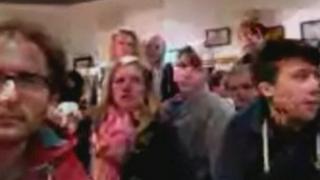 More than 20 Kent pupils who have been on a school trip in New York have ended up stranded in the city because of Hurricane Sandy.
The 22 sixth-form students from Bennett Memorial School in Tunbridge Wells were due to fly back to the UK overnight, landing at Heathrow on Tuesday.
The group, who are in the city with their teachers, have taken refuge in their hotel.
Religious Studies teacher Andrew Cooke said they were trying to stay calm.
He said the group was all in good spirits.
"We've got a kind of community feeling, with everybody pitching in and looking after each other, trying to stay calm and just to weather the storm really," he added.
He said: "At the moment. I don't think we've seen the worst of the weather. It's just building up.
'All safe'
"At the moment we've got a lot of drizzle and some quite gusty wind but nothing that you couldn't stand up in, so it's quite still at the moment."
The sixth form school trip left the UK on Friday and had been due to take a flight back to the UK on Monday night, arriving on Tuesday.
A statement on the school website said: "Students are all safe, well and happy at their hotel.
"We have been informed that flights have been rebooked for Wednesday evening."
The group is now expected to land at Heathrow on Thursday morning.
The school said that if the pupils' travel arrangements changed, staff would let parents know.
Hundreds of thousands of residents were ordered to evacuate parts of New York City and New Jersey as Hurricane Sandy approached the US East Coast.
BA and Virgin Atlantic cancelled all flights to and from New York, Washington and Boston.
Emergencies have been declared in a number of US states.
By Monday, wind speeds had increased to 85mph, with more powerful gusts possible.
Authorities have warned that the hurricane, dubbed "Frankenstorm", could cause sea levels to rise, flood the underground transport system, and cut off electricity supplies and communications.