Dover's new community hospital gets go-ahead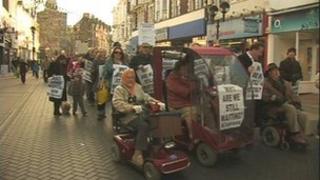 The go-ahead has been given for work to start on a new £20m community hospital in Dover after years of campaigning.
It will be built on the site of the existing Buckland Hospital in Coombe Valley Road and will save some patients from journeys to Ashford and Margate for treatment.
Construction work, which is expected to take two-and-a-half years, is due to start by the end of this year.
Work had been due to start in 2009 and the delays have prompted protests.
'Fit for purpose'
East Kent Hospitals University NHS Foundation Trust approved the scheme at a meeting on Friday.
Nick Wells, chairman of the trust, said he was "absolutely delighted and relieved" the go-ahead had finally been given.
"It has been a long time coming, and I think, if I'm honest, it's been too long coming, but I think that's water under the bridge," he said.
"The most important thing is we will have a high quality set of buildings that are really fit for purpose and we'll be able to ensure that many more patients who live in the Dover area have their outpatient appointments there in Dover, not having to travel distances to other main sites."
Charlie Elphicke, MP for Dover and Deal, said it would save long journeys to hospitals in other parts of Kent.
"It will mean more local, more accessible health services and this is really important because there's a lot of people who are elderly, or don't have a lot of money, who haven't got access to a car, and getting to the big acute hospitals by public transport, or indeed by taxi, is either very long, or very, very expensive," he said.
The planned start three years ago was scrapped after the Environment Agency raised objections because of flood risks.
Last December, campaigners angry about the delays marched through the Kent port town.