Kent Women collect silverware from the Duke of Edinburgh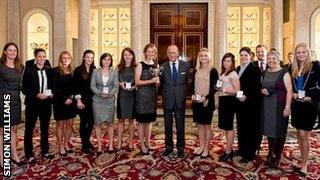 Kent cricketers have received their 2012 Women's County Championship medals in a ceremony at Buckingham Palace.
The Duke of Edinburgh presented captain Charlotte Edwards and her team with their second consecutive trophy.
"It's a motivating factor throughout the summer to get here," Edwards told BBC Radio Kent.
"For the younger girls, it'll be a day they'll never forget and hopefully they'll want to perform again next year to re-live it again."
Kent are now the joint most successful women's team in the history of the County Championship, drawing level with Sussex and Yorkshire.
Edwards has now led her side to five titles in the past seven years.
"I prefer coming here with your county team. This is the ultimate for a county cricketer," she added.
"You never get bored of it. It's a special day in the cricketing calendar."
Seventeen-year-old Grace Gibbs has only been part of the 2012 triumph and could not quite comprehend the occasion in London on Wednesday.
"It's mind blowing," she said. "You wouldn't expect it to happen to you.
"I'm just in shock. Hopefully, we'll do it next year as well."
Warwickshire, the winners of the men's County Championship, were also on hand to collect their awards.
And whilst their male counterparts simply had to greet Prince Phillip with a handshake and a nod of the head, Kent's ladies had to perform a curtsey as they received their medals one by one.
It appeared to be the most nerve-wracking element to the entire day.
"We got told about five seconds before we were going up to collect our medal," explained spinner Susie Rowe.
"Charlotte started with a very good curtsey and I think I pulled it off quite well.
"It went all downhill from there."
Wicketkeeper Tammy Beaumont added: "I was at the back of the queue and only got told to do what everybody else did.
"We felt it was more of a falling over affair."
Edwards concluded: "If we win it next year, we're definitely going to have to do some curtsey lessons."