Port of Ramsgate sheep deaths 'unacceptable'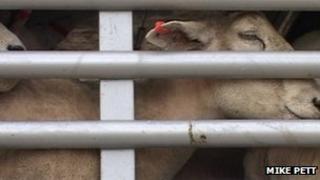 Circumstances which led to the slaughter of 44 sheep at the Port of Ramsgate were "absolutely unacceptable", the government has said.
Environment minister David Heath spoke about the issue after Kent MP Laura Sandys asked what procedures had been put in place following the incident.
The sheep were put down last month when a lorry was stopped at the port and the animals were found to be sick and lame.
In a separate accident, a loading area floor collapsed and three more died.
After the incident, Thanet District Council temporarily suspended live exports from the port. The authority said the ban would be lifted after suitable facilities had been built.
But last week the High Court overturned the council's ban after three Dutch companies appealed against the move. Thanet District Council is expected to appeal.
'Appeal expected'
On Thursday, Thanet South's Conservative MP Laura Sandys told the Commons: "I want to understand from the minister what procedures have been put in place to address the crises that we have been facing in Thanet."
Mr Heath replied: "Those circumstances which we have spoken about were absolutely unacceptable in Ramsgate and I want to make it absolutely clear.
"I immediately asked for a report to be drawn up by officials working on animal health regulation. They are doing that.
"They will report very shortly to me and I am very happy to share with her the consequences of that."
Since exports resumed at Ramsgate last Friday, protesters have staged further demonstrations and RSPCA inspectors have been at the port to check the condition of animals.
It was initially understood that 43 sheep were destroyed in the incident at Ramsgate with a further two accidental deaths, but the RSPCA later found 44 sheep had been put down and three died as a result of an accident.