Concern over seafront project 'stalled by freehold'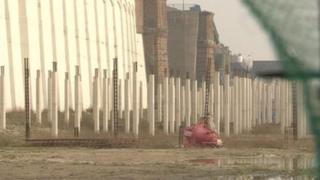 The future of a development which has still not been built a decade after developers took control of a seafront site has raised concern in a Kent town.
SFP Ventures should have built a hotel and luxury apartments on the derelict Pleasurama theme park site in Ramsgate.
Spokesman Terence Painter said they had been negotiating the freehold with the council to secure extra finance but hoped to complete the project by 2014.
Thanet District Council said it wanted proof they could raise the money first.
Councillor Alan Poole, Labour deputy leader, said he was "very disappointed" that the "prime site" had still not been developed.
'Massive eyesore'
"We're currently waiting for SFP to come back to us to prove they've got sufficient funding in the bank to complete the project," he said.
"They also have to prove to us that they have an operator for the hotel, and we also need to complete due diligence to prove that they are a bona fide company.
"I'm fairly confident that they will come up with the goods."
Mr Poole added the developers currently had agreements which ran until 2017, and thereafter the council would have to take legal action to gain repossession of the Royal Sands site.
The site has been described as a "massive public eyesore" by Independent councillor Ian Driver.
The chairman of the overview and scrutiny committee said: "I think it's outrageous that it's taken so long to do so little."
He added: "They've proved they're not fit to do the job 10 years down the road and I do not see why the council should be handing over the freehold of this property to the developers who have done diddly squat."
Mr Painter, of Terence Painter Properties, facilitators for the project, said: "We're in the process at the moment of negotiating with the council the freehold of which an agreement has now been reached.
"The detail is just about to be finalised.
"Once that's finalised, we can then put that in front of the funders to allow them to fund the rest of the project."