Margate FC fans told to curb their language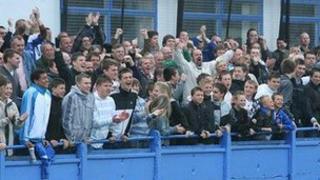 Football fans in Kent have been told to curb their bad language to encourage more families back to the terraces.
Margate FC has put up signs warning fans to refrain from swearing after "one or two issues" in the recent past.
A club spokesman said it was realistic about the "industrial language" in football, but backed the majority who did not want children exposed to it.
Gates fans aged five to 16 attend home games at Hartsdown Park under the club's community programme.
The spokesman said fans had "considerably improved" their language since the signs went up, by moderating their chant and outbursts.
'Family atmosphere'
He said they had been "creative" at times by singing the same songs but substituting swear words with the word "shark".
"The policy we have at the club, which we try to enforce through stewarding and announcements, is a policy looking to support community club objectives, to create a family atmosphere and encourage young supporters," the spokesman said.
"There have been one or two issues in the recent past, and we wanted to try to do something about it.
"We're realistic about the industrial language that football attracts but want to support the majority that don't want to expose their children or themselves to bad language."
Margate FC said there had been a gradual, slow decline in supporters, falling from an average gate 10 years ago of 1,400 to around 400 today.
It said the main reason for the fall had been a lack of results on the pitch.
The club plays in the Ryman League premier division.