Captive Kent gorilla family to be released in Africa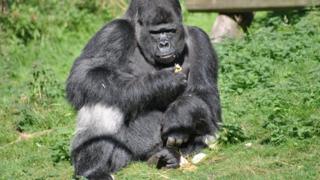 Eleven gorillas based in Kent will become the "first" captive family group released into the wild, according to a conservation charity.
The Aspinall Foundation said it would release the family of western lowland gorillas in Africa early next year.
Gibbons, Javan langurs and two elephants will also be released.
The charity, based in Port Lympne and Howletts Wildlife Parks, said the gorillas would be moved to areas where they had been hunted to extinction.
Damian Aspinall, from the foundation, said it would be the most ambitious and wide-ranging reintroduction of endangered species ever undertaken.
'Display or education'
"We passionately believe that the days are long gone when it could be seen as justifiable to keep animals in captivity simply for the purposes of display or education," he said.
"True conservation must be fundamental to the existence of any collection of captive animals in the 21st Century."
The group is headed by Djala, a 30-year-old male gorilla who was rescued from poachers in Africa and brought to Port Lympne, Kent, in the 1990s.
His family consists of his five "wives" and five offspring aged between six years and eight months, who were all reared in captivity.
The charity manages two gorilla rescue and rehabilitation projects in the central African countries of Gabon and Congo, and said it has successfully reintroduced more than 50 gorillas back into the wild since 1996.