Cuts 'may close' Citizen Advice bureaus in Kent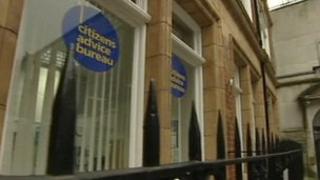 Citizen Advice branches in Kent are facing closure and job losses due to funding cuts, the organisation has said.
Nick Bussey said: "It will have a massive impact on individuals' ability to get support."
Kent MP Damian Collins said simplifications in the benefit system would reduce the need for advice.
In March volunteers opened an advice centre in Paddock Wood after the Citizens Advice bureau closed.
According to Citizens Advice, branches in Kent will lose about £1m in funding and some staff will lose their jobs.
Mr Bussey said: "There will be a loss of paid posts, so staff with a high level of expertise will be lost to the service, and those services won't be able to deliver that service to clients post April."
The charity said changes to legal aid and council spending cuts were to blame for the budget reductions.
'Larger budget'
Mr Collins, Conservative MP for Folkestone and Hythe, said: "Sometimes difficult decisions do need to be made.
"We do have a larger budget for legal aid than any other comparable country in the world.
"I hope the reforms that are coming in next year, when there will a simplification of the benefits that are available to people and how they can claim them, may help reduce the need for some of the additional support services we need in the community that the CAB provides."
When the Citizens Advice Bureau (CAB) closed in Paddock Wood in March, staff set up their own advice centre, run by volunteers.
Rosalind Kent, from Paddock Wood Community Advice Centre, said: "Some of the people had been there for 10 or 15 years and were not happy to just leave the area.
"We wanted to provide a consistent face-to-face service, which is what we think the community really needs. We serve the area beyond Paddock Wood and people are coming in from all the place for advice."
She said the advice centre is funded by local businesses and donations from individuals as well as by Paddock Wood council and parish councils.
Bonny Malhotra, a trustee at Maidstone Citizens Advice Bureau, said: "Today if somebody walks through the door we are able to give them advice on anything.
"With the changes, if we lose our specialists, we may not be able to help them."