Mary Portas opens shops in Margate to aid regeneration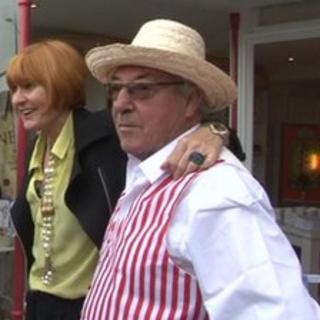 Retail guru Mary Portas has opened two shops in a Kent seaside town which is renowned for having the second highest proportion of empty shops in England.
The television presenter is trying to help with the regeneration of Margate by offering her expertise.
She helped to design one of the shops, Kiss Me Quick located on the seafront, describing it as Margate's "most important souvenir shop".
The second, on the High Street, is a "pop-up" shop for local entrepreneurs.
Twenty new traders to the town have already signed up to use the premises, called Poportunity, for just £35 a week.
They will be selling arts and crafts, handmade clothing, furniture and photography.
Ms Portas has also negotiated a special £10 return ticket for rail travel from London to Margate during the winter on Southeastern services, in support of her Portas Pilot scheme.
Margate was chosen as one of 27 "Portas pilot" areas to receive part of a £1.2m pot of government cash to rejuvenate their high streets.