Paul Winter Miami gun murder: Cristobal Palacio jailed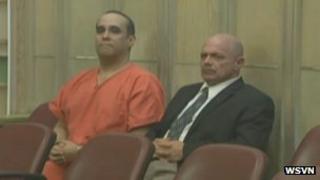 A man has been jailed for 45 years for the murder of his ex-wife's husband, who was shot in front of his family.
Cristobal Palacio, 46, was found guilty of the second degree murder of Paul Winter, 42, originally from Tunbridge Wells, Kent, in October 2008.
Mr Winter died in front of his wife Jennifer and her twins at Palacio's home in Kendall, Miami, Florida.
Palacio was also convicted of child abuse, as a result of his children having witnessed the shooting.
Under Florida law, second degree murder carries a sentence of a minimum of 20 years in prison and a maximum of a life sentence without parole.
Mr Winter, a graphic designer, was shot six times by Palacio, including twice in the back.
Mr Winter had moved to Miami and married his killer's ex-wife a year before the shooting.
Palacio had claimed he had fired in self defence because he feared Mr Winter was about to shoot him.