New ferry service between Ramsgate and Boulogne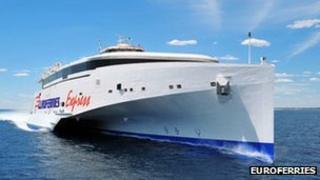 A ferry company has announced a new service between Kent and France.
Euroferries will operate a new 102m (335ft) trimaran between Ramsgate and Boulogne on the service, which is due to start in February 2013.
The company said the vessel will carry passengers, cars and coaches and reach speeds of more than 40 knots (46mph).
The ferry company said it would also be operating a coach service between Ramsgate, Canterbury and London Victoria.