Cuban Missile Crisis: Dover Castle tunnels in key role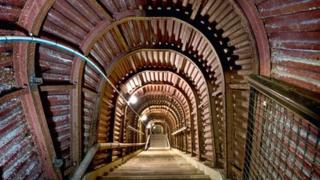 A secret network of tunnels at Dover Castle planned as a refuge for leaders in the event of a nuclear attack is to open to the public for the first time.
Seven corridors and 30 rooms will open for tours marking the 50th anniversary of the Cuban Missile Crisis, which took the world to the brink of nuclear war.
The bunker, codenamed Dumpy, would have housed 300 government and military chiefs as a regional government seat.
Nato carried out secret exercises there days before the 14-day crisis in 1962.
'Badly prepared'
As tensions mounted between the USA and Cuba, Operation Fallex revealed just how unprepared Britain was in dealing with the aftermath of a nuclear strike.
People inside the rooms found they were unable to communicate with the outside world, leading to the installation of a purpose-built BBC studio.
Peter Lindley, who took part in the exercises at the 12th century Castle in Kent aged 18, recalled: "One morning the commander came rushing in with a signal hot off the teleprinter which stated 'Nuclear Burst in the Channel'.
"He thought of alerting all channel shipping but was concerned if he did, it would cause chaos as recipients of his message would not know whether it was for real or otherwise.
"This underlined how badly prepared we were and a few week's later when the Cuban Missile Crisis came to a head, I remember bumping into one of the chaps I was on exercise with and we both agreed that if the worst came to the worst, RSG (regional seat of government) Dover was a place to avoid."
The rooms 150ft (46m) below the surface in the bowels of the medieval castle would have become operational at short notice in the hope of maintaining some order for nuclear survivors.
They would have housed civil servants from government ministries, military personnel, police, fire brigade, scientists, signals staff, trades personnel, general post office staff and the BBC.
English Heritage said the 30-minute tours would take place each day for the duration of the Cuban Missile Crisis.
Curator Rowena Willard-Wright said: "We hope that these special events and tours will give our visitors a chance, not only to see spaces within the castle that have been closed to the public, but also to find out about our recent new research as we uncover the extent of Dover Castle's secret role in the Cold War."